As a people-to-people car sharing community, TREVO community's safety and wellbeing have always been one of our top priorities. In response to the impact of coronavirus (COVID-19), we have taken measures to ensure your safety. We'd also like to share some precautions that you can take as a user to protect yourself from potential health risks.
A few measures that we have put in place to help you share your car safely:
TREVO Delivers (for free, no joke!)
TREVO provides free car delivery within Klang Valley, Kota Kinabalu, and Penang as a part of the service when required by Hosts.*
*Check out our TREVO Delivers blog post to determine delivery hours in accordance to CMCO regulations.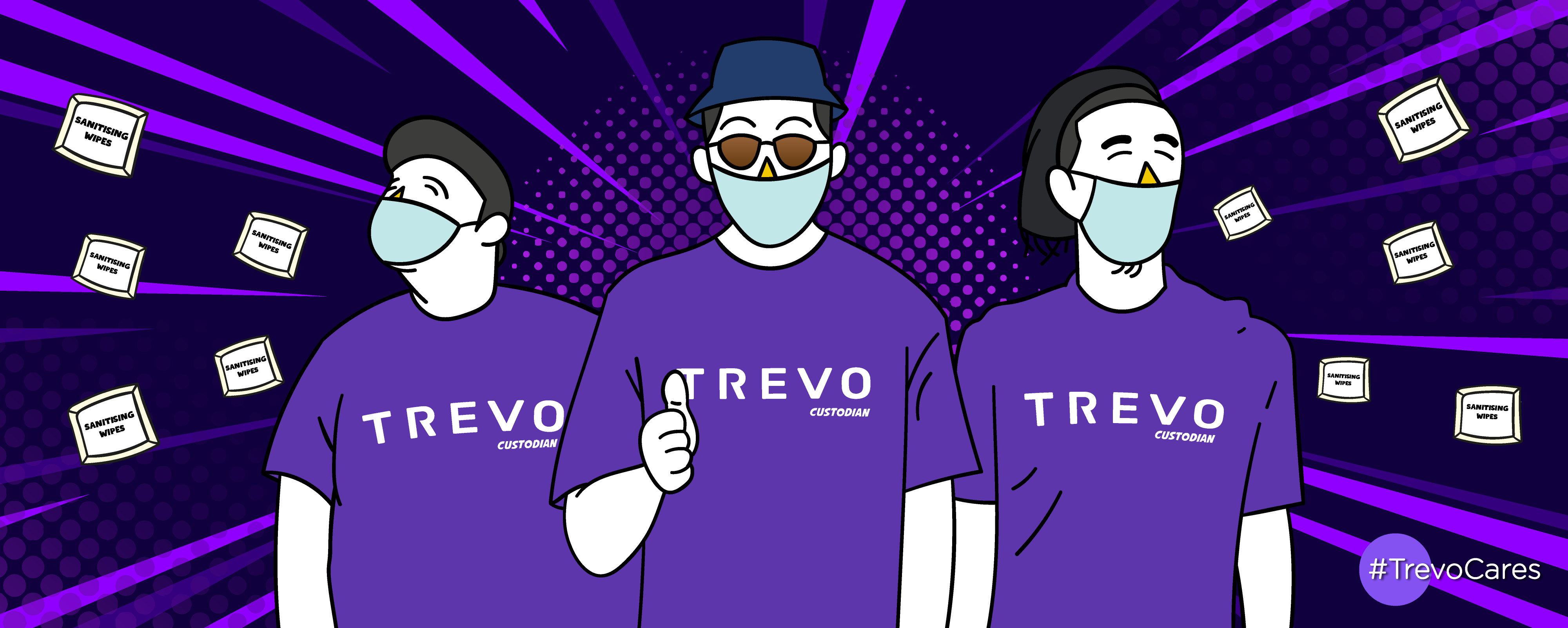 Vehicle Disinfection Between Trips
Our custodian team will disinfect the frequently-touched areas of a TREVO car before the car is handed over to Guests – such as the steering wheel, gear stick, and door handles. For Hosts, if you are delivering to Guests, please disinfect your car between trips to ensure it is in a healthy condition for the next TREVO Guest. If you are unsure, you can always refer to the Ministry of Health (MOH) recommendations on disinfecting vehicles.
Sanitisation Practices (We clean ourselves too!)
TREVO team members who interact with TREVO cars practice regular sanitisation to ensure cleanliness before your trip starts.
Waiving Cancellation Fees
It is common for plans to change during this period. We completely understand. That said, for those in Kota Kinabalu and Klang Valley, the cancellation fee for trips will be waived, and this is effective until 16 October 2020 and 27 October 2020 respectively.
Also, some tips to care for yourself…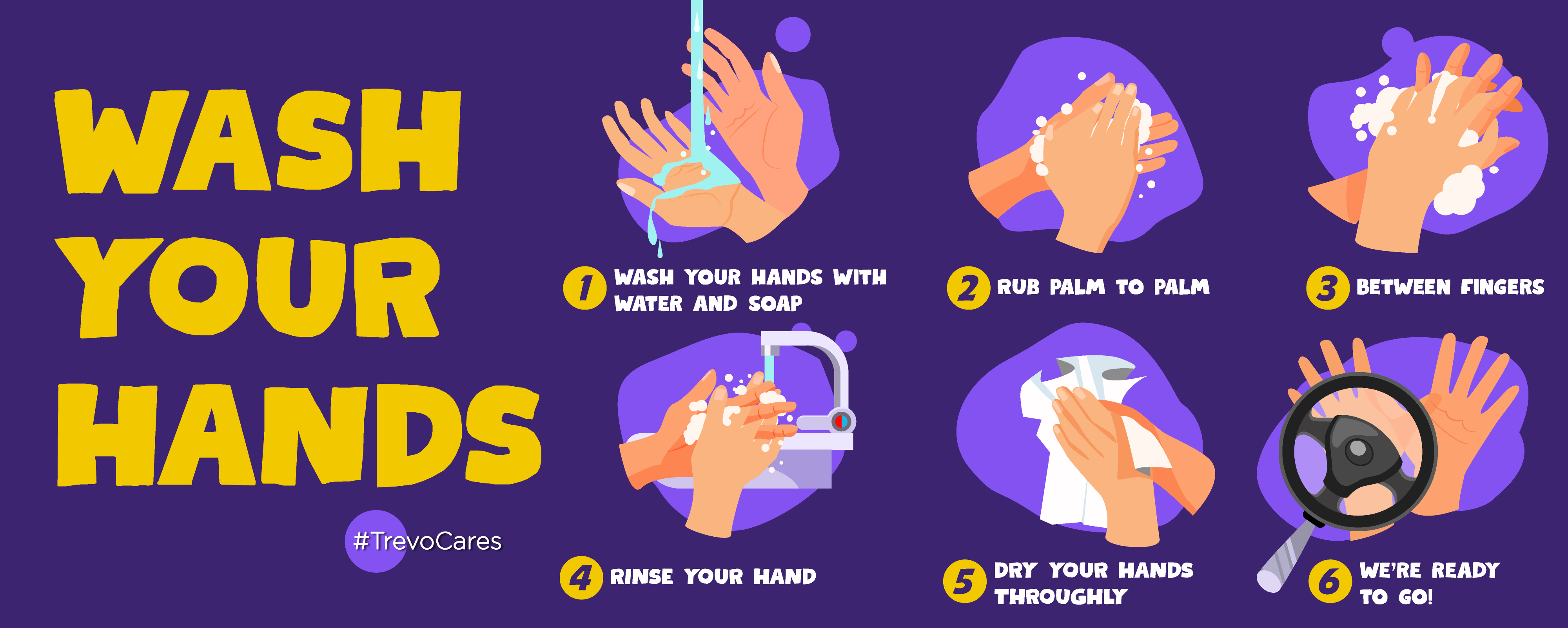 Wash your hands regularly 🙌
We have illustrated some hand washing recommendations from MOH (Ministry of Health) for you below. Since it is encouraged to wash our hands for 20 seconds, and we know that 20 seconds is a long time if you stay in silence; some songs you can sing to make 20 seconds feel shorter are – Happy Birthday song🎂 x 2, the Alphabet song 🔤 x 1, or Baby Shark 🦈 x 3.
Cover your cough/sneeze and handle tissues properly 🤧
Uh huh, we get it. No one can hold in a cough or a sneeze, so if you must, be sure to cover your cough/sneeze, and dispose of used tissues at the end of your trip for hygiene and health purpose.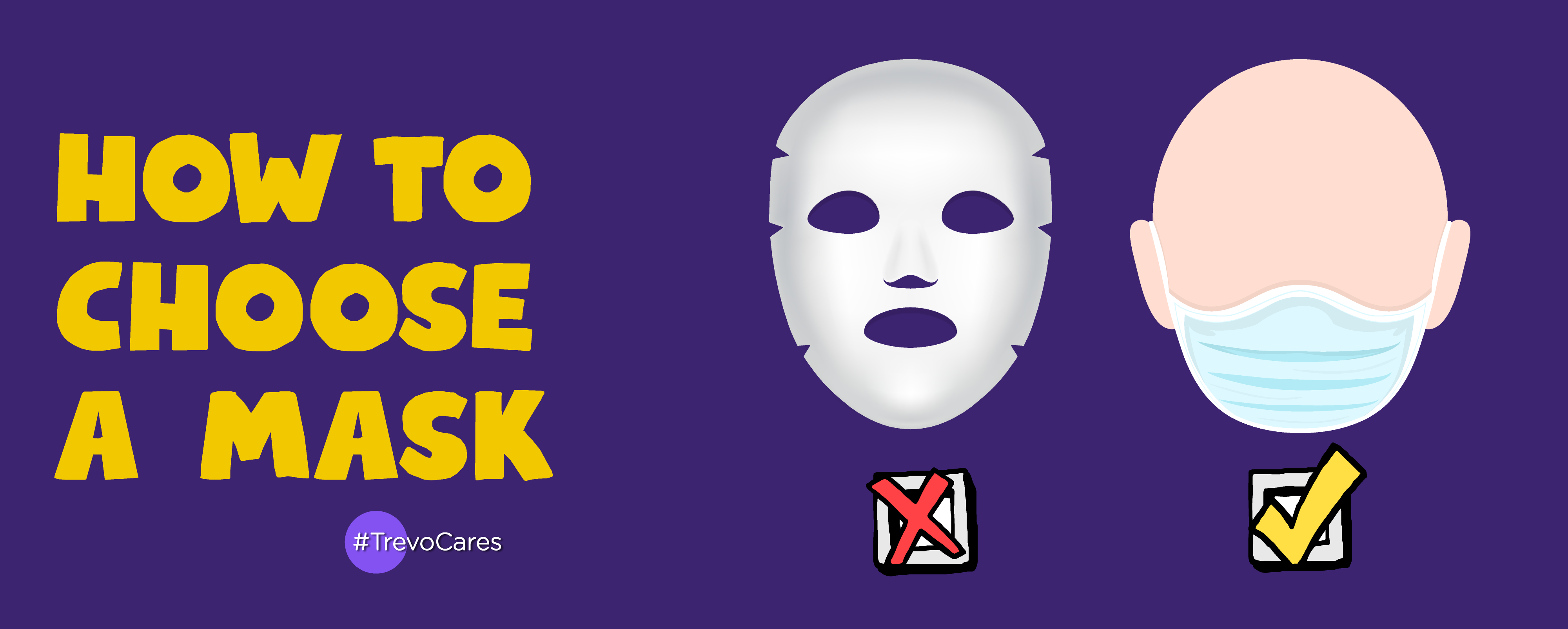 When you're out, wear a mask (the right way) 😷
Yes yes, we know you have seen a lot of illustrations on how to wear a mask, we just want to tell you again, picking the right mask to wear and handling it properly is essential for a mask to be effective.
TL;DR
TREVO offers FREE delivery service within Klang Valley, Kota Kinabalu, and Penang when it is required.
Our custodian team who sanitises themselves regularly also disinfect cars between trips. Hosts are encouraged to do the same.
Wash your hands and sing Baby Shark x3, wear the right masks, and cover your mouth when coughing.
Please stay safe and take good care of yourself during this period, we will continue to monitor the situation to ensure that appropriate precautions are being taken for the community.
Meanwhile, enjoy some contents we created for you! Follow us on Instagram and Facebook for more updates.